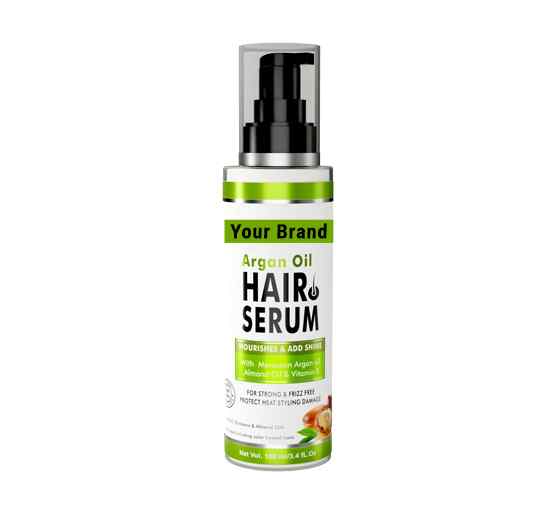 Private Label Argan Oil Hair Serum Manufacturer
Benefits:

Prevents Hair Loss,

Moisturizes & Conditions,

Improves Scalp Health.

MOQ: 2000 Unit
Lead Time: 20 Days/1000 unit
Packaging Size: 50 ml, 100 ml
Packaging Type: Jar & Bottle
Private Label: Available
Custom Formula: Available
Trade Assurance: On-time Delivery Guarantee Refund Policy
Argan Oil Hair Serum is full of fatty acids and powerful antioxidants, such as vitamin E, that have been shown to have benefits for your scalp and hair. At Bo International, we manufacture private label argan oil hair serum that is infused with the goodness of argan oil. Argan oil hair serum helps to moisturize the hair. They lubricate the outer layer of your hair strands to quench them of thirst. Customized third party Argan oil hair serum can moisturize your hair and scalp and protect your hair from everyday damage. By reducing breakage and split ends and keeping your scalp healthy, argan oil may help prevent hair loss for thicker, fuller hair.
The medium-chain fatty acids in argan oil have a protective effect that can help prevent damage from washing and styling. The antioxidant activity in argan oil hair serum private label product protects hair against free radical damage from the sun. This benefit may also extend to the hair, helping to prevent drying and other damage from ultraviolet rays.
Argan Oil Hair Serum Ingredient List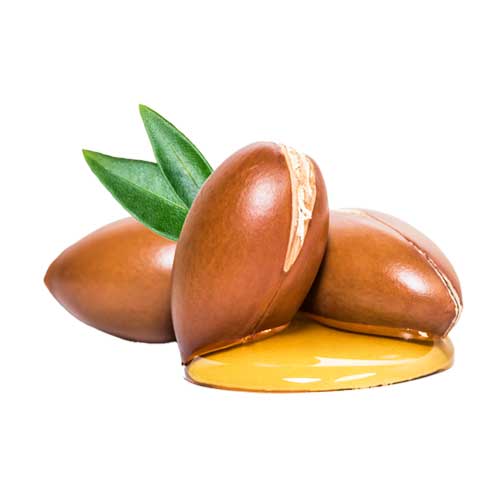 Argan Oil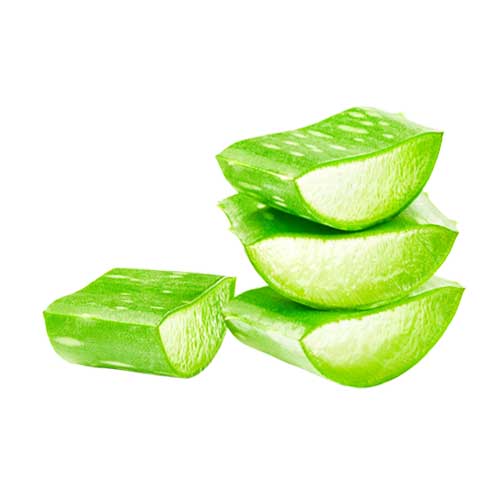 Aloe Vera Extract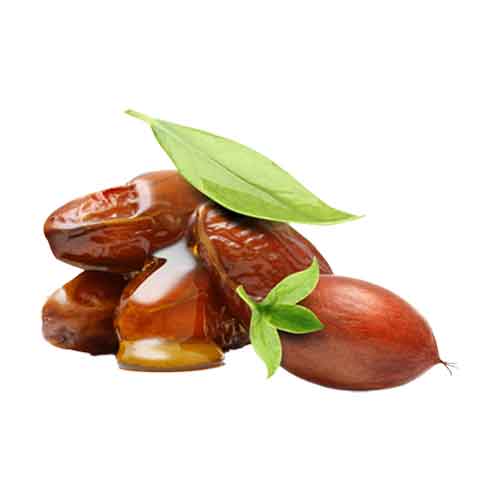 Jojoba Oil
Argan Oil Hair Serum Benefits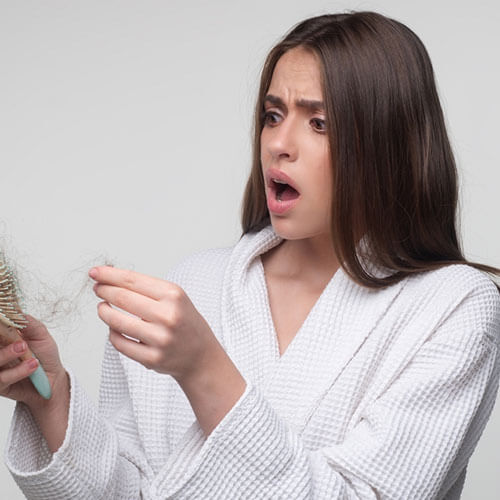 Prevents Hair Loss
Argan oil hair serum for hair and scalp health prevents hair breakage and hair loss. Vitamin E, which argan oil has in abundance, improves hair growth. The powerful antioxidants and nourishing fatty acids in argan oil help keep your hair moisturized and protects against styling damage and damage caused by free radicals. This can result in less breakage and shedding.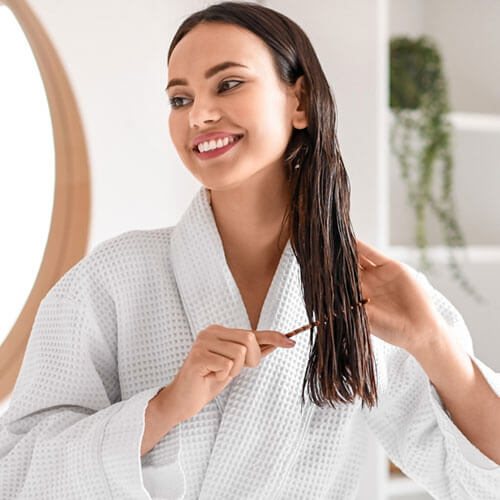 Moisturizes
Argan oil hair serum is mostly used as a moisturizer for hair because it is full of fatty acids, mainly oleic acid and linoleic acid. These oils have been shown to lubricate the hair shaft and help your hair maintain moisture. Argan oil serum is also rich in vitamin E, which provides a fatty layer to your hair and scalp that may help prevent dryness and can help reduce dizziness and boost shine.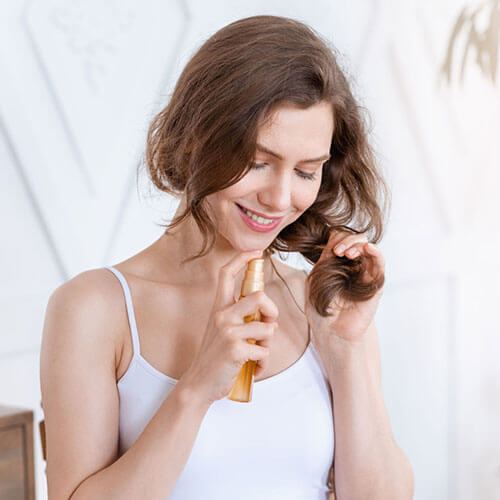 Improves Scalp Health
Argan oil hair serum has anti-inflammatory properties that are good for the hair. This can help prevent or improve hair conditions, including those that can affect the scalp that can cause hair loss, like psoriasis and seborrheic dermatitis. Argan oil's antifungal properties help to treat dandruff. Sometimes dandruff is caused by a yeast-like fungus on your scalp.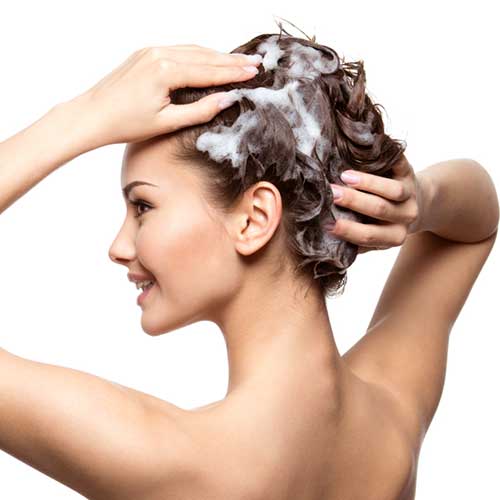 Step 1
Wash your hair with a mild shampoo.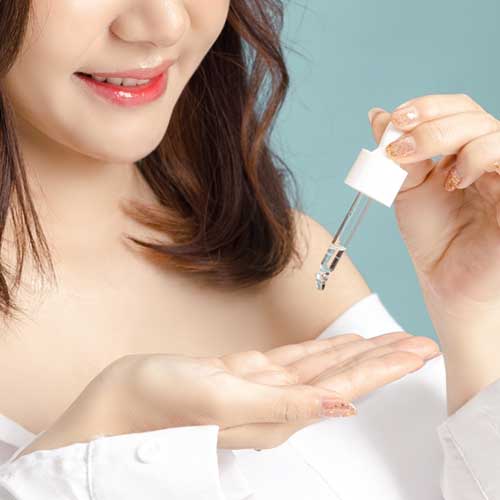 Step 2
Pump a few drops of serum on your palms and rub your palms.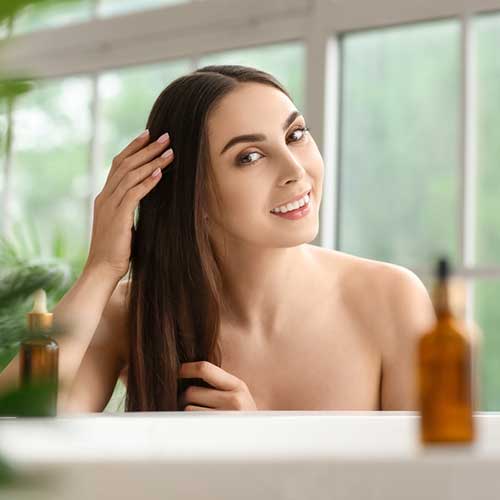 Step 3
Apply over your scalp and ends.
Private Label Argan Oil Hair Serum Manufacturer
BO International is a leading Argan Oil Hair Serum Private Label Manufacturer and a Third-party contract-based Company in India. We provide private label, custom formulation, customized packaging and contract manufacturing Argan Oil Hair Serum Products.
We Produce Argan Oil Hair Serum using a standardized and certified international process that enables us to extract all advantageous active elements. We are 3rd Party Argan Oil Hair Serum contract-based private labelling manufacturer, and all the products manufactured in bulk are clinically tested and verified.
BO International welcomes any customization to the manufacturing formula of Argan Oil Hair Serum. We provide the product in any desired customized packaging options, from tube to pump. This makes us a top third-party manufacturer of premium quality Argan Oil Hair Serum & Other Hair care products.
BO International is the perfect private label manufacturer of Argan Oil Hair Serum Brand to stand as a unique and best quality product in the market. We promise the best proficiency level of research and development to explore your needs and wants that fit your product design and customize accordingly.
BO International is certified with ISO-WHO, GMP, KOSHER, HACCP, HALAL, etc. We promise timely delivery within the country and even in 120+ international countries like Canada, Australia, the UK, and the USA with the help of the logistic connection with DHL, FedEx, Blue Dart, India Post, etc.
Frequently Asked Questions
What does argan oil serum do for hair ?
Argan oil hair serum is full of fatty acids and powerful antioxidants which moisturizes your hair, reduces dandruff and prevents hair loss.
When to apply argan oil serum on hair?
Apply the serum on scalp after washing your hair with a mild shampoo.
Can I use argan oil as hair serum?
Argan oil can be used on your hair as a serum to replenish dull looking hair.