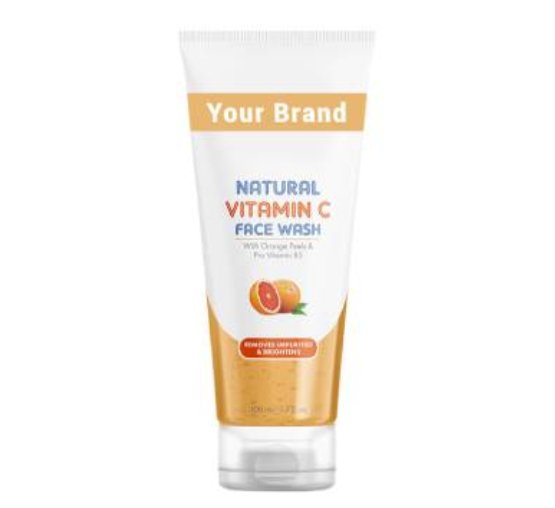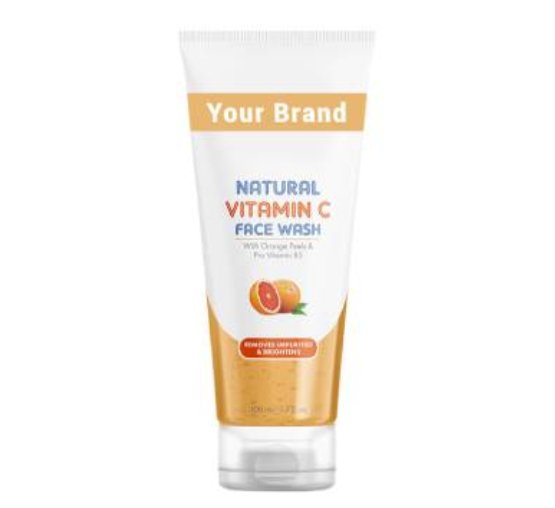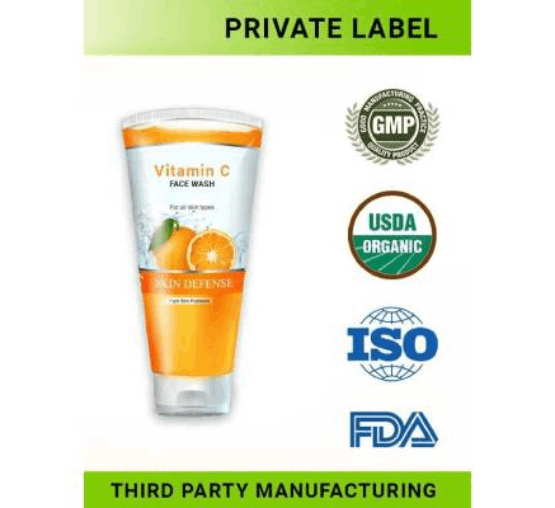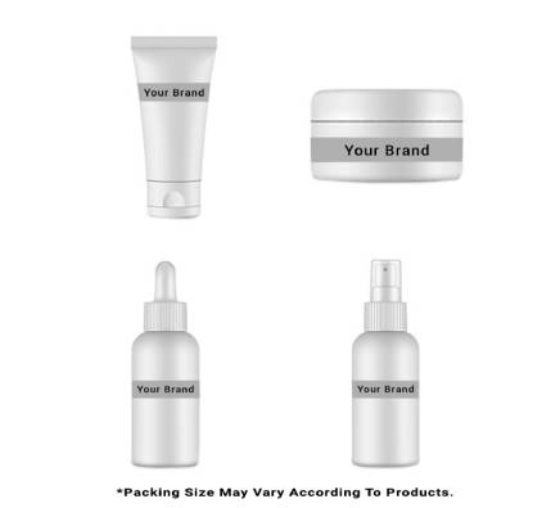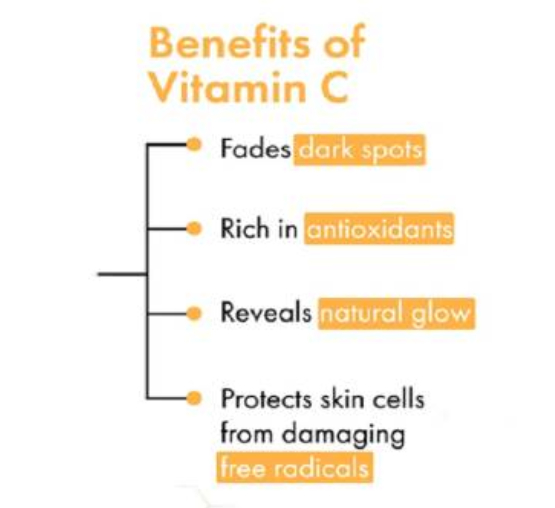 Private Label Vitamin C Face Wash Manufacturer
Benefits:  

Deep Cleanses

, Reduces Pigmentation

,

Anti Aging Properties

MOQ: 1000 Unit
Lead Time: 20 Days/1000 unit
Packaging Size: 50ml, 100ml
Packaging Type: Tube, Jar & Bottle
Private Label: Available
Custom Formula: Available
Trade Assurance: On-time Delivery Guarantee Refund Policy
Vitamin C Face Wash will give lifeless skin a new lease on life. It is a skin-reviving face cleanser that helps to revive dull skin by delicately eliminating a layer of dead skin cells and controlling excess sebum.
It contains active vitamin C with real orange and turmeric extracts, which assists in improving the texture and appearance of your skin. Free radicals that damage the skin and cause wrinkles, age spots, and dullness can be neutralized by vitamin C. Turmeric aids in skin brightness restoration and complexion balancing while orange extracts help lighten dark spots and level out skin tone.
Private Label Vitamin C face wash with orange and turmeric uses the clinically proven skin-brightening properties of Vitamin C to help eliminate dullness and patchiness from your complexion. Additionally, it increases under-skin collagen for a luscious appearance and feel. Your skin gets a vibrant, balanced, and renewed feeling after every use.
Vitamin C Face Wash Ingredient List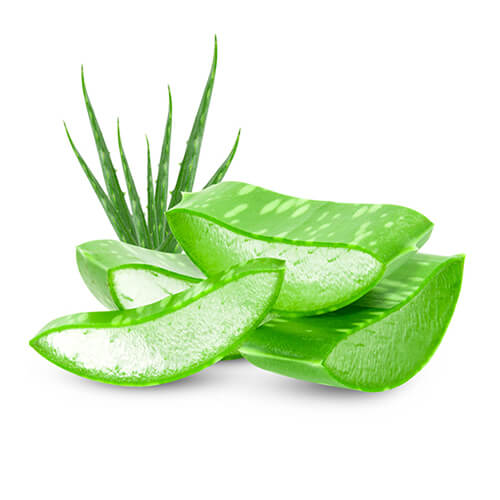 Aloe Vera Extract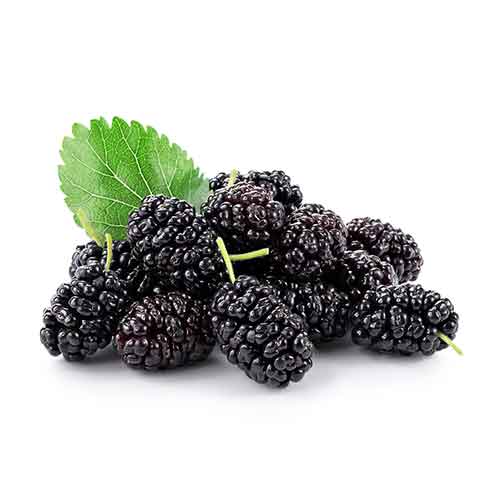 Mulberry Extract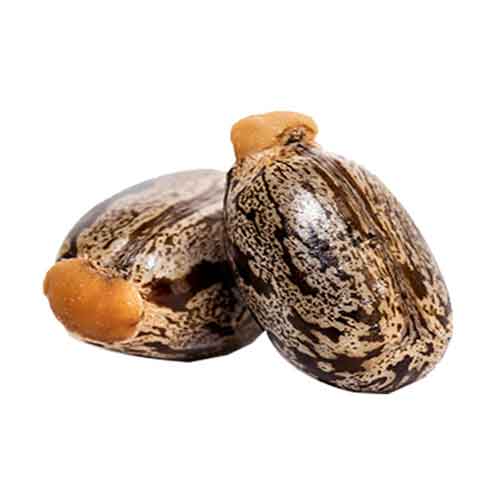 Mulberry Extract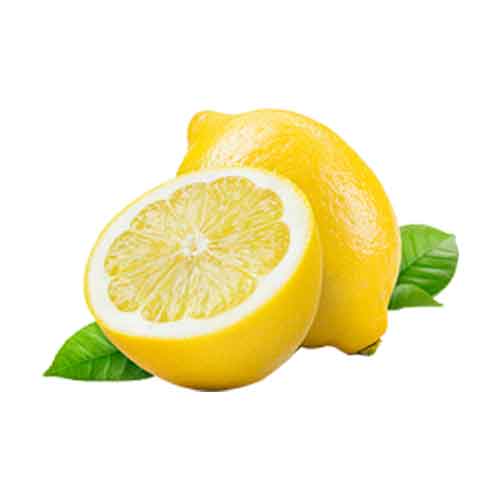 Lemon Essential Oil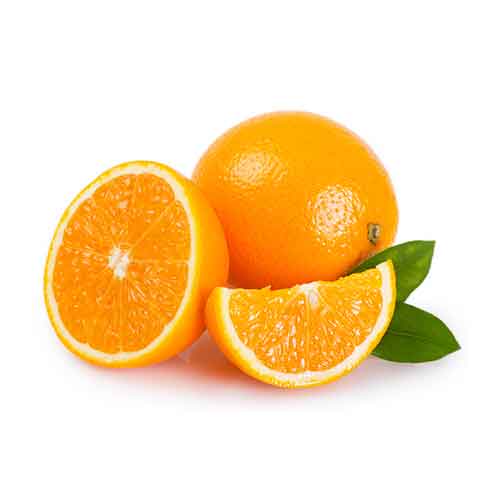 Orange Essential Oil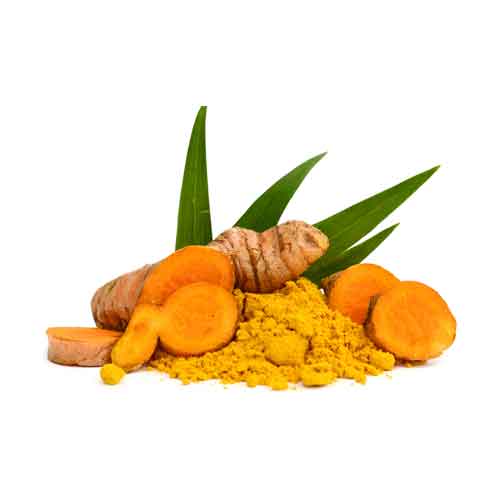 Turmeric
Vitamin C Face Wash Benefits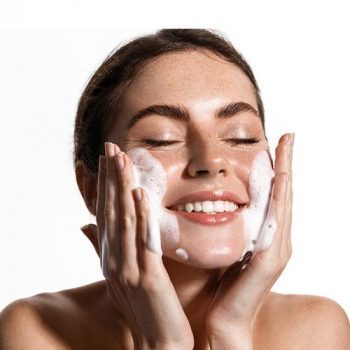 Deep Cleanses
Vitamin C face wash works as a mild exfoliator and helps remove impurities and reveal clearer, luminous skin underneath. It aids in skin illumination and collagen formation, giving your skin a youthful suppleness, assists in clearing the skin of impurities like dead skin cells by exfoliating and cleansing it.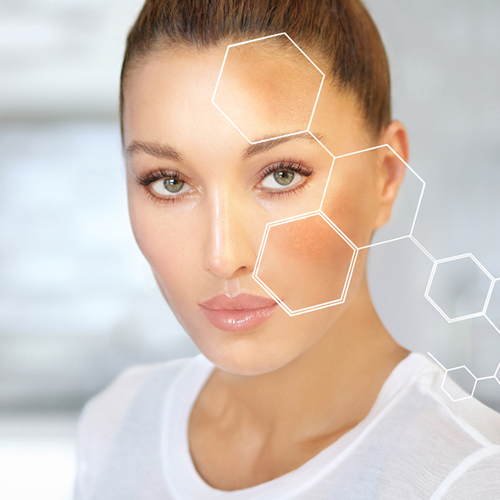 Reduces Pigmentation
Acne scars or hyperpigmentation can be reduced using a private label vitamin C face wash. Since melanin tends to darken these spots, vitamin C can help prevent its formation making your skin tone even more radiant. It gives your skin the extra boost it needs to regenerate.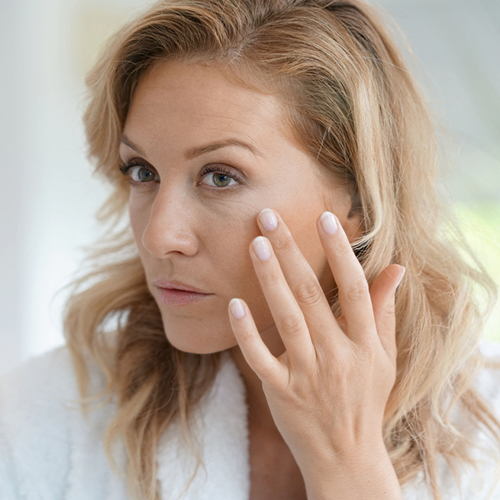 Anti Aging Properties
Vitamin C face wash with orange and turmeric extracts is quite effective at preventing free radical damage, which keeps your skin glowing and healthy. It additionally aids in skin firming and smoothing by promoting cell renewal. It delays the appearance of skin aging, fine lines, and wrinkles.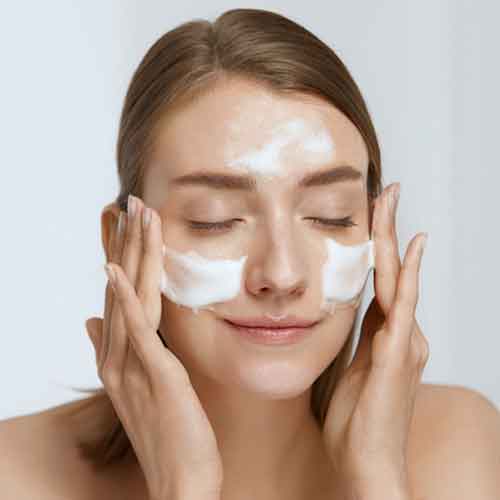 Step 1
Take a coin size amount on your palms and rub it in your hands to form a lather.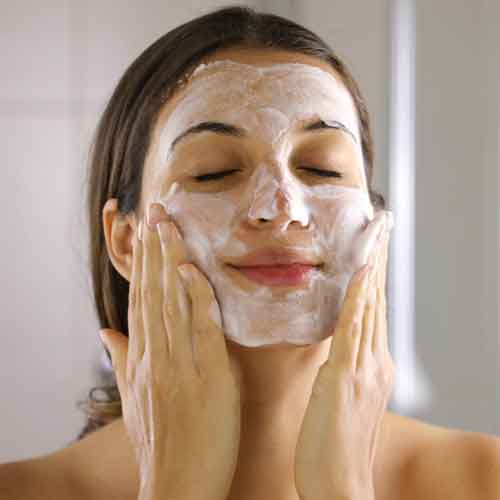 Step 2
Gently apply the face wash on your face and start massaging in circular motions.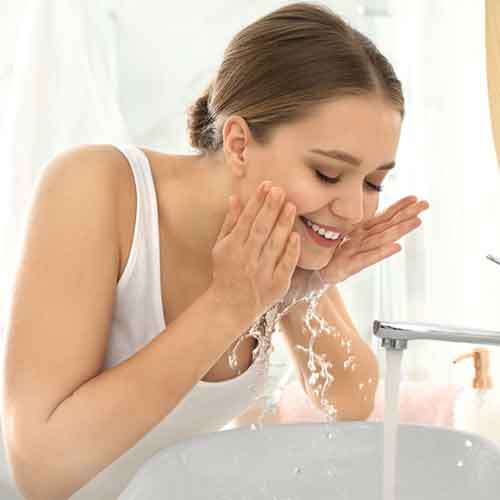 Step 3
Wash your face with water and pat dry with a towel. Avoid contact with eyes.
Private Label Vitamin C Face Wash Manufacturer
BO International is a leading Vitamin C Face Wash Private Label Manufacturer and a Third-party contract-based Company in India. We provide private label, custom formulation, customized packaging and contract manufacturing Vitamin C Face Wash Products.
We Produce Vitamin C Face Wash using a standardized and certified international process that enables us to extract all advantageous active elements. We are 3rd Party Vitamin C Face contract-based private labelling manufacturer, and all the products manufactured in bulk are clinically tested and verified.
BO International welcomes any customization to the manufacturing formula of Vitamin C Face Wash. We provide the product in any desired customized packaging options, from tube to pump. This makes us a top third-party manufacturer of premium quality Vitamin C Face Wash & Other Skincare products.
BO International is the perfect private label manufacturer of Vitamin C Face Wash Brand to stand as a unique and best quality product in the market. We promise the best proficiency level of research and development to explore your needs and wants that fit your product design and customize accordingly.
BO International is certified with ISO-WHO, GMP, KOSHER, HACCP, HALAL, etc. We promise timely delivery within the country and even in 120+ international countries like Canada, Australia, the UK, and the USA with the help of the logistic connection with DHL, FedEx, Blue Dart, India Post, etc.
Frequently Asked Questions
Can Vitamin C Face Wash cause dry skin?
No, Vitamin C face wash doesn't cause dry skin, However those with sensitive skin must use it with caution.
Can I Use vitamin c face wash for acne?
Yes, you can use Vitamin C face wash for acne. It helps treat pimples and acne breakouts.
Is vitamin c face wash good for oily skin?
Yes, Vitamin C face wash is good for oily skin as it is rich in antioxidants and anti-inflammatory properties.