April 28, 2023
Rohit Mishra
The huge demand for baby care products has enabled brands to focus on unique categories like baby lotions. To start a baby lotion business, you must understand the basics of how baby lotions are manufactured and how to develop effective product formulas. However, before that, you must acquire a thorough and deep understanding of the market.
The expectations of the buyers must be analysed to understand what the parents expect from baby lotions. In this article, we have compiled some great ideas and tips on launching your own baby lotions business.
Benefits of Starting A Baby Lotions Business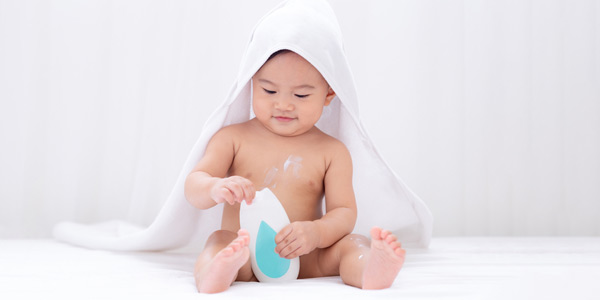 Some key benefits of starting a baby lotions business have been discussed below:
1. High Demand
Baby lotions are always in demand because the skin of the babies needs to be nourished and pampered regularly. Parents do not hesitate in making expensive purchases when it comes to baby care products. Therefore, brands can grow their business by providing premium-quality and effective baby lotions.
2. Low Competition
The baby care products market has a relatively lower competition as compared to the adult skincare products and cosmetics market. As a result, brands can utilise this opportunity and try to establish a foothold in the industry by delivering high-quality products.
3. High Profit Margins
As baby lotions are in great demand, brands can earn higher profit margins by lowering their production cost. They can keep the formulation simple with the use of few ingredients which will automatically reduce their manufacturing cost.
These were some main advantages of starting a Baby Lotions business. Yet, before entering this business, you should acquire sufficient knowledge of the market and niche audience.
How To Start A Baby Lotions Business?
Here's how you can start a baby lotions business and make it successful:
1. Research The Market
The market for the baby lotions must be studied in detail to understand the latest trends and customer expectations. You must also study the competitors to examine their strategies and business moves. Finally, the analysis of customer sentiments and pain points will help in formulating effective and appealing products.
2. Define Your Niche
Defining your niche is essential even if your business is operating in a narrow niche like baby lotions. For instance, you can focus on creating natural and organic products that are made without chemicals. It will help you target the parents that are looking for natural and organic products for their offspring.
3. Register Your Business
Registering business is also equally important as it allows you to acquire the licences and permits. After registering the business, you can look forward to acquiring the certifications that you need for your products. Also, registered businesses get easier access to loans and other financial products which may help you to expand your business in the future.
4. Find A Manufacturer
A manufacturer who offers high-quality baby lotions can help you impress the buyers. Private labelling means outsourcing the manufacturing to a third-party company. They have predefined formulas which can be customised as per your requirements. Therefore, you can look for a reputed private label manufacturer for handling the manufacturing of baby lotions.
5. Develop A Marketing Strategy
A sound marketing strategy will improve your reach and help you to spread awareness about the products easily. You must conduct a thorough research on the social media platforms that can help your business grow. You can even consult a marketing strategist to develop a comprehensive marketing plan for your business.
6. Launch & Market Your Products
Once the products are manufactured and packaged, you must launch them in the market. An online launch event can be organised to inaugurate the products. After that, you can employ smart branding and marketing strategies to make your products popular. Influencer marketing, email marketing, and content marketing strategies can help you to earn the trust of the buyers.
These were some key pointers that you must remember while launching your baby lotions business. You must also have a backup plan to help you keep the business on track amidst difficult situations.
Benefits Of Private Labelling In Baby Lotion Products
Private labelling offers the following benefits to a baby lotions business:
1. Increased Brand Recognition
It is always prudent to reduce the burden of operating multiple business processes at once. Private labelling allows you to do that by outsourcing your manufacturing work to a reputed private label manufacturer. Once you private label the body lotions manufacturing, you can focus on improving your core business strategies.
2. Control Over Product Line
Private labelling allows you to select the products that you want to manufacture. You may even increase the production of products that are doing well or stop the production of the products that have failed to create an impact. By offering complete control over your product line, private label manufacturers allow your business to make the most of the available resources.
3. Differentiation From Competitors
Private label manufacturers customise the product formulas as per your needs. You can develop unique products with their support and achieve an edge over the competitors. The premium-quality and finesse of your products will define your brand and help your business grow exponentially. You can employ better branding and marketing plans with the assistance of private label manufacturers.
4. Higher Profit Margins
Acquiring higher profit margins is a priority for every business. Private labelling allows you to reduce the production cost which will ultimately help you earn higher profits from the sales. The private label manufacturers have connections with bulk ingredient suppliers who offer them the raw materials at cost-effective rates. Therefore, they usually offer the products at wholesale and discounted rates.
5. Cost-Effective
Private labelling is a cost-effective solution for handling your manufacturing needs. You need not bother about buying land, equipment, and inventory required to manufacture the body lotions. By saving more money, your business becomes more profitable and the cash liquidity can help you to expand your business.
These were some key benefits of collaborating with a private label manufacturer. Yet, you must only partner with reputed and reliable manufacturers who agree to manufacturing the body lotions as per your terms and conditions.
Why Choose Us For Private Label Manufacturing?
Bo International is the leading private label baby care products manufacturer in India. We are committed to offer high-quality and cost-effective manufacturing solutions to our clients. Our custom product formulas and ability to work with a wide range of natural and organic ingredients make us stand apart from the other manufacturers. We employ the latest technologies in manufacturing to comply with the international standards of safety and hygiene. Connect with us today to know more about our private label services and products!