25/08/2022
Bo International
The development and production of your cosmetic line can be a difficult process that calls for a particular skill set. Learning how to launch and manage your own business involves many steps. It can be overwhelming to add product development. Fortunately, the advantages of private labelling often outweigh the drawbacks.
Private labelling might give you the chance to obtain high-quality products without making a significant financial commitment that you can subsequently use in your company. Small firms who want to enhance the turnaround time for producing products and quickly convert them into earnings frequently find that this is the best option.
The advantages of working with a private-label cosmetic producer are astounding. To assist you in making the best decision possible for you, we have listed the main advantages of private labelling.
What is Private Labeling in Cosmetics?
Private labelling is a procedure used to manufacture cosmetic products by a third party and sell them under the retailer's brand. Retailers just need to worry about a few items during this procedure, like labelling layouts and product packaging requirements. The retailers are also in charge of packaging and other details.
With private labelling, you can promote and sell identical goods produced by a supplier who also produces goods for other brands under your own brand name. Everything about the product, including how it is packaged and what the label should look like, is up to you to formulate, change, and specify.
It will then be delivered right to your door. As a result, you have the freedom to create your products using your knowledge and experience while still enjoying the financial benefits of working with a large company.
Why Choose Private Label Cosmetics?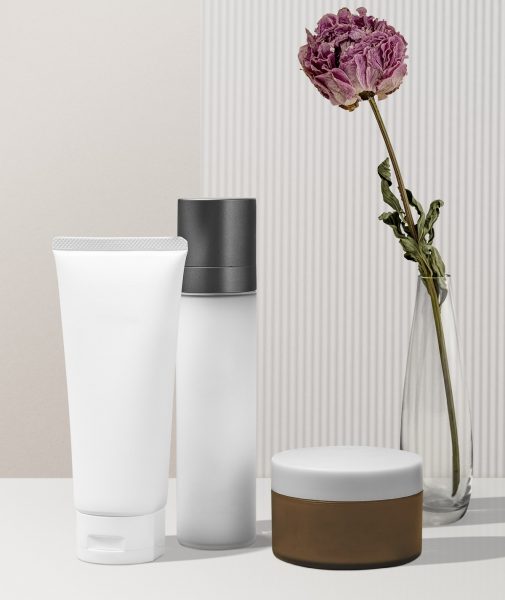 Starting from scratch to develop your skincare or cosmetics lines can be difficult and time-consuming. You can bring your concept to a private label manufacturer rather than starting from scratch. You can significantly reduce your effort by partnering with a seasoned private label manufacturer who specializes in skincare formulation, product design, packaging, packing, and delivery. They will assist you in ensuring that goods are produced consistently for your brand.
Another item to think about is the costs involved in starting from scratch and establishing a product. You can lower your startup expenses, test with comparatively smaller quantities, and gauge consumer response to your product launch with the aid of a private label manufacturer.
Working with a manufacturer has the added benefit of allowing you to have formulations that are tailored to your brand. You will have access to the most cutting-edge, novel ingredients on the market, and your product will have a special formula. Working with a manufacturer enables you to reduce manufacturing costs, keep R&D expenses to a minimum, and maintain small batch sizes.
Another justification is to avoid having to do the labour of packaging and transporting your goods. Many manufacturers collaborate often with logistics partners and freight forwarding companies. This implies that you can save more on shipping expenses as a result of their partnership.
Working with a manufacturer, according to our customers, allows them to concentrate their resources on marketing, customer service, and staying ahead of the competition by planning "what's next" for their brand. When it comes to controlling the cost of skincare or cosmetics production, it's a balancing act between doing so and using your products to convey your values.
Private Labeling Benefits:
The decision to private label your items has many benefits. Here are a few explanations as to why it will help your small business.
There are Low Minimum Orders
Small businesses frequently purchase excessive amounts of inventory because they are unable to sell it quickly enough. You can reduce that risk by switching to Private Labelling and placing orders as necessary. Manufacturers will accept smaller order sizes and reasonable costs from your small firm.
You can purchase things at wholesale pricing without placing a large order, which makes it simpler to sell all of your inventory without taking a substantial financial risk.
The affordability of smaller orders is also increased because you don't have to place as large an order. This makes starting a new company while saving for your next major move much simpler.
Fast Turn-Around
Every business wants to be able to earn a profit quickly, which is why many pick private brands to produce their goods. The most intimidating aspect of starting a business is typically the start-up expenditures, which deters many would-be business owners. When it comes to making your idea a reality and your business a success, reducing the time and financial capital it takes to get your product to market is a blessing.
Control Over Production
Retailers have more leverage in all situations, not just those that call for a quick change. Private labelling also offers better production control, which is a benefit.
The manufacturer receives instructions from the store on every facet of a private-label product. They could specify substances or parts. They can demand exact specifications, even down to the most basic details like a product's colour or shape.
It's Affordable
Producing goods can be expensive, especially if you are paying out of your own wallet. Businesses frequently discover that spending money on areas like branding and marketing is more suited for starting their business. Due to products being more readily available, less expensive, and quicker to produce when you choose private labelling, you have greater financial freedom.
Easy to Start
Private labelling can be the solution if you discover that you don't have all the resources you require and have a smaller workforce. You can concentrate on marketing your items and developing your brand once you've found a manufacturer who you like and who provides the best customization, quality, and price.
Customizable Packages
Naturally, you pick a colour palette and formulae for your brand when you first launch your firm. Private labelling gives you the option and flexibility to select the label you want to put on your product without having to pay for multiple iterations of unsuccessfully producing the bottles, jars, labels, and lids along the road.
Private labelling enables you to give the files to your manufacturer and have them create the labels and packaging for you instead of having to produce the product, create a logo, and design the packaging like many cosmetic firms must.
What are the Disadvantages of Private Label Skin Care Manufacturers?
E-commerce and retail are never straightforward. Private labelling has a lot of benefits, but there is also a huge potential drawback.
Difficulty Building Brand Loyalty
In theory, branding your products is a fantastic concept. However, in reality, creating considerable brand loyalty can be challenging. After all, your private label lines frequently face off against well-known brands in a particular market.
Those enduring brands have a number of important advantages over your private-label products. For starters, they will be accessible in a wider variety of retailers. The only items on your shelves will be those under your private label. National or international firms also have a far bigger budget to spend on product promotion.
How does Private Label Cosmetics Contract Manufacturing Work?
It takes several steps to create private-label cosmetics. The first step is picking the manufacturer you think will best suit your needs. Since no two firms will have precisely the same demands, picking a manufacturer who will be a good fit is essential. Once you've decided, get in touch with their team to make sure you get the greatest service. The typical procedure seems as follows:
Consultation:

With going over the private label skin care manufacturer project. Be sure to include a timeframe, goals, vision, and money in your plan. Get a sense of where the collaboration will position you in relation to your ambitions. Please be aware that a consultation fee can apply.

Product Assessment:

 Manufacturers typically provide a wide range of skincare items that can be privately labelled with your logo. You can frequently order samples at this step of the process to make sure the product you intend to sell meets your standards of quality.

Packaging Choice:

 Choose a packaging design for your products. To meet your needs, your manufacturer probably has a choice to choose from.

Labelling Style:

 Work together with the manufacturer to decide how your private-label cosmetics will look. To create items that will catch the attention of your customers, share design ideas on how to effectively invoke your brand promises and include them in the graphics, design layout, and even the labels themselves.
Is Private Labelling right for my Brand/Company?
Will skincare under a private label work for you? Depends, really. Before looking for a manufacturer, ask yourself these questions:
Do I provide goods that my customers can rely on?

Do I want to foster a loyal consumer base?

Do I want to raise the bottom line of my company?
If "yes" was your response to any of the preceding inquiries, you might want to think about switching to a private-label skincare line. Selling your own specially-made skincare products can be a terrific way to establish a solid online and offline brand. Additionally, private-label goods make sense from a practical, commercial standpoint. Selling just pricey name-brand goods is a cost-effective strategy that may help you boost sales and brand recognition for your business.
Why choose Bo International?
Worldwide, there are many companies that produce private-label skincare products, but only Bo International makes the process simple and provides a superior client experience. Here are a few ways that Bo International differs from the competition:
Compositions with an Organic Base that is Naturally Sourced:

 At Bo International, we never skimp on the caliber of our goods. We provide more than 80 private-label organic skincare products made with naturally derived components, scented with essential oils, and never tested on animals. We aim to provide you with affordable minimums and excellent value for your items.

A Smooth Five-Step Procedure:

Other private-label skin care companies could add unnecessary steps to the process or spend more time trying to pitch you on more services than actually trying to understand your objectives. Bo International streamlines the procedure by offering a free consultation before you choose your products, scents, and packaging, followed by labelling. We are dedicated to providing you with a straightforward, seamless experience so you can receive the things you require.

Engaging and Quick Client Service:

At every step of the process, our team of customer service specialists is there to answer all of your inquiries.
Conclusion
Both online and offline shops have the option of using private labelling. The cosmetic lines are produced there for the merchants to sell under their names and with their own branding. The main benefits of this are the authority it offers retailers. They have control over branding, price, and production. But going up against well-known manufacturers and brands is no easy task.
The popularity of private-label skincare is expanding. Consumers are increasingly choosing small-business stores and their branded goods over well-known household names. The time has come to stick to your idea and choose private labels if you've ever wanted to boost your company's brand and revenue.
You May Also Like: