Pet care products such as pet shampoos, conditioners, etc. are in great demand nowadays. It is because people love their pets and care for them. Therefore, they like to use the best grooming products for their pets. Though it is a relatively newer category in personal care products, brands are taking a keen interest in developing these products and taking advantage of being the early aggressor in this niche. Yet, not every brand has the necessary expertise and knowledge of manufacturing pet care products.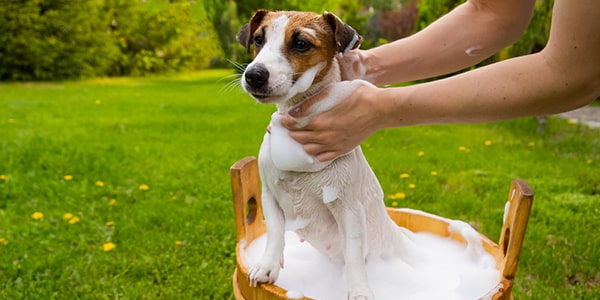 As a result, they tend to outsource their manufacturing work to a third-party Private Label Pet Care Manufacturer. In this article, we will look at the benefits of private labeling in pet care products.
What are Private Label Pet Care Products?
Private label pet care products are products manufactured by third-party private label manufacturers. These products are of high quality and meet the specifications that the brands require for their offerings. Apart from developing the formulas and manufacturing the products, private label manufacturers also offer customised packaging solutions.
Some private label companies are also well-versed in handling the marketing and SEO needs of the brands. Though it is beneficial to assign the manufacturing task to private label companies, brands must be careful while working with them. It is so because all the private label companies might not be experienced in producing pet care products.
Benefits Of Private Labelling In Pet Care Products
There are multiple benefits of private labeling in pet care products. Some of the major benefits of private labelling are discussed below:
1. Increased Brand Recognition:
Private labeling allows brands to focus on their SEO and marketing strategies. They can focus on their branding efforts by being active on social media channels like Facebook, Instagram, Twitter, etc. At the same time, they can also use content marketing, email marketing, and social media influencer marketing plans to spread awareness of their brand and products. All these efforts will ultimately increase their brand recognition as people will start relating to their features and benefits.
2. Control over Product Line:
Pet Care product range may include multiple products like anti-dandruff shampoo, conditioners, body scrubs, and more. Manufacturing all these products at once is possible if brands outsource the manufacturing to a private label company that can handle bulk manufacturing. They can also add or remove products from their product line as per their requirements.
It is also possible to increase the production of products that are in demand. By working with a dedicated private label manufacturer, brands can improve and strengthen their supply chain.
3. Differentiation from Competitors:
To stay relevant in the market, brands must focus on developing unique products. They might need to work on unique formulas that deliver the desired results to the end users. Private label manufacturers accept custom formulas and also integrate the ingredients that brands want in their products.
Pet care products can have unique features, scents, and properties that will make them highly popular in the market. Also, they have dedicated designers that design unique packaging as per the marketing needs of the brands.
4. Higher Profit Margins:
Private labeling reduces the stress of production and also reduces production expenses. As a result, brands can earn higher profit margins by selling products in bulk. Wholesale suppliers and manufacturers also help them reduce the expenses related to purchasing ingredients, equipment, and machinery.
They do not have to bear the maintenance cost of inventory and machinery. All these efforts reduce the production cost and help brands in earning more profits. They also get time to market and advertise their products more which ultimately helps them to grow their business and revenue.
5. Cost-Effective:
Private label manufacturers manufacture pet care products in bulk. It enables them to provide the products at reasonable and discounted rates to their clients. The saved money can be used in fine-tuning marketing, SEO, and advertising strategies. Brands do not have to invest in purchasing land, and machinery, and setting up manufacturing plants. They also save a huge sum of money that is required to recruit and train labourers and employees. All of this makes their business more profitable.
These were a few reasons that highlight the advantages of private labeling in pet care products. As a brand owner, you need to be careful while choosing private label companies. The manufacturer must be trusted, experienced, and reputed in the market.
Conclusion
BO International is the leading private label company in India. Apart from regular cosmetics, makeup products, skincare, and hair care products, they also have expertise in manufacturing top-quality Pet Care Products. The use of organic ingredients makes their products effective and safe for your pets. Also, they introduce innovative technologies to improve the quality and safety parameters.
Rigorous testing methods are employed to deliver premium-quality products to clients. Their bulk manufacturing ability enables them to provide the products at wholesale rates to their B2B clients. Connect with their sales team today to know more about their private label products and services.