Before starting a lipstick business, you need to gather information about several things. One of the most crucial things is lipstick manufacturing. If you don't have the expertise of manufacturing different types of lipsticks, you can seek help from a third-party lipstick manufacturer.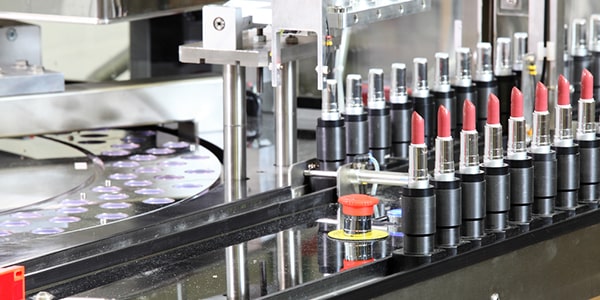 Choose custom Lipstick Manufacturers who can manufacture the products as per your requirements. In this article, we will look at the ways to choose the right lipstick manufacturer for your lipstick business.
Reasons Why You Should Get a Lipstick Manufacturer
There are several reasons that highlight the importance of collaborating with a lipstick manufacturer. Some of the key reasons are highlighted below:
1. Lower Production Costs
Working with a private label lipstick manufacturer will lower the production cost as they offer the products at wholesale rates. You can choose the liquid matte lipstick manufacturer or any other specific types of lipstick manufacturers as per your requirements. The costs related to hiring the labour and setting up production plants are also eliminated and you can utilise the saved funds for expanding your business.
2. Scalability
Private label lipstick manufacturers have the capacity of handling bulk production. As a result, you can scale up your business by increasing production or by adding new products like lip glosses, lip tints, etc. in your product line. It will increase your sales and eventually help you to earn more revenue from your lipstick business.
3. High-quality Products
By choosing the right private label manufacturer, you can deliver high-quality products to your end users. The private label companies that introduce the latest manufacturing technologies and innovations should be on your topmost priority. They must also have a dedicated quality control team that verifies that the manufactured lipsticks are of high-quality.
What To Look For in a Lipstick Manufacturer?
Numerous lipstick manufacturers are available in the market. Yet, you should choose the ones that offer the best quality lipsticks at affordable rates. Here are a few other factors that you can consider while choosing the best lipstick manufacturers for your business:
1. Cost-Friendly Service
The private label services should be offered at a cost-friendly rate. A higher production cost will wipe away your profit margins and make your business less profitable. You should compare the costs of several lipstick manufacturers along with their MOQs (Minimum Order Quantities) before deciding. You can also find lipstick tube suppliers who offer the tubes at affordable prices.
2. Trust & Communication
A private label manufacturer who maintains steady communication with its clients can be helpful in many ways. It will be easier for you to get regular updates from them and at the same time, you can communicate your requirements more effectively. The company should be trusted and reputed in the market.
3. Track Record
Look for a trusted company that has worked with several brands in the past and has a clean track record. It will help you to minimise the conflicts and get your products without any hassles. You can also go through the client reviews and testimonials to find their strengths and weaknesses.
4. Flexible
The lipstick manufacturer should be flexible enough to accommodate your requirements. For example, you can choose the lipstick wholesale manufacturers that accept custom orders. Different shades, textures, and finishes should be available so that you can offer a wide range of products to your customers. The packaging options should be customisable as per your marketing needs.
5. Financial Stability
It is always wise to choose a lipstick making factory with stable financials. It will ensure that your orders are fulfilled without any issues. A lipstick private label manufacturer with poor financials might affect your supply chain. It will affect the profitability of your business and your customers won't be happy with your services.
Criteria for Selecting a Credible Lipstick Manufacturer
Certain criteria should be fulfilled before selecting a credible lipstick manufacturer for your business. Some of the key factors are discussed below:
1. Minimum Orders
A lipstick manufacturer that has a higher MOQ (Minimum Order Quantity) will not be suitable for a startup. It is so because they would like to produce a lesser quantity of products to see whether they are working well in the market. Therefore, you should choose a company that is flexible enough to accommodate lower quantities at the start.
2. Licence and Certification Standards
The private label lipstick manufacturer you are working with should have all the appropriate certifications and licenses that are required to manufacture lipsticks. It will minimize the risks of losing business in case the services or products are halted due to non-compliance with safety, hygiene, or any other manufacturing standards.
ISO standards and cruelty-free certifications are some of the common certifications that brands look for in a private label lipstick manufacturer.
3. Trade Assurance
The lipstick manufacturer you are working with must provide a certain type of trade assurance. The assurance must highlight that the manufactured products will meet all the specifications expected from your end. It must also mention that the products will be delivered on time and there will be no issues regarding their quality.
Things To Do Before Choosing the Right Manufacturer
You should always be careful while choosing the right lipstick manufacturer for your business. Here are some things that you can consider while selecting the manufacturer:
1. Financials
Your finances must be strong to ensure a steady supply of products from the lipstick manufacturers. If your finances are weak, it will affect the marketing and other aspects of your business. Ultimately, your business will be less profitable and you may end up making heavy losses. You should also have access to sufficient credit in times of need.
2. Intellectual Property Protection
You might be disclosing some secret formulas to your lipstick manufacturer. Therefore, you should ensure that your intellectual property is in safe hands. In the contractual clauses, you should specify the consequences of violating intellectual property rights. You can also patent your formulas or obtain a trademark that can be used later.
3. Ensure that all the legalities are met
You should consult with a lawyer or a legal team to check all the legalities before working with a private label liquid lipstick manufacturer. They will help you to follow all the guidelines and clauses that can help you to get the lipsticks manufactured without any issues. The legalities will be met ensuring that you don't have to face any hassles in the future.
Conclusion
These were a few ways to choose the right Private Label Lipstick Manufacturer for your lipstick business. BO International is a leading private label lipstick manufacturer in India. They employ the latest innovations and technologies to maintain quality and safety standards in the products. They accept custom formulas and ingredients as per your request.
As a result, you can change the composition, appearance, texture, and shade of the lipsticks as per your requirements. Customised packaging solutions are also offered by this private label company. Contact their sales team today and know more about their private label products and services.