Before starting an ayurvedic product business, you must acquire a complete knowledge about manufacturing and running the business. You would need to build partnerships with ayurvedic wholesalers and supplies to provide the necessary ingredients for manufacturing the products. Finally, you must partner with a marketing agency to promote your products offline and online.
Categories of Ayurvedic Products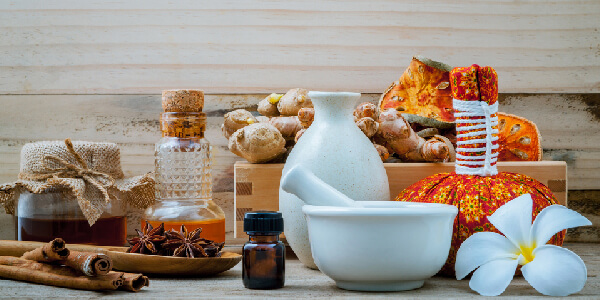 There are several categories of Ayurvedic Products in the market. You must determine the category you want to work in and select the products accordingly. Here are the main categories in the business of ayurvedic products:
1. Herbal Supplements
Ayurvedic or herbal supplements are meant to improve health and immunity or treat several diseases and disorders. These products comprise plant extracts that have medicinal properties. They are mainly used to improve digestion, immunity, and the overall health of the end users.
2. Ayurvedic Skincare Products
Ayurvedic skincare products are meant for individuals suffering from skincare ailments. These include regular skin issues like acne, pimples, blackheads, fine lines, wrinkles, and more. Or else severe skin diseases like eczema, psoriasis, etc., can also be treated with products manufactured by an ayurvedic product business.
3. Ayurvedic Medicines
Ayurvedic medicines mainly consist of tonics, potions, ointments, herbal tablets, powders, and other products. They are formulated to treat diseases like blood sugar, joint pain, sexual diseases, etc.
4. Ayurvedic Personal Care Products
Ayurvedic personal care products include hair oils, digestive supplements, eye health supplements, and more. These are to be taken daily and are usually prescribed by a physician.
5. Ayurvedic Aromatherapy Products
Ayurvedic aromatherapy products consist of diffuser oils, bath bombs, bath salts, scrubs, and other products that rejuvenate your mind and body. These products are usually organic and derived from plants.
6. Ayurvedic Hair Care Products
Ayurvedic hair care products include products like hair serums, hair oils, shampoos, conditioners, hair masks, etc., made from natural and herbal ingredients.
7. Ayurvedic Teas
Ayurvedic teas contain natural ingredients and spices that flavour your tea and enhance its nutritional value. Hibiscus, lemon, green tea, pepper, cinnamon, and other ayurvedic herbs and spices are blended to prepare ayurvedic tea packs and powders.
8. Ayurvedic Massage Oils
Ayurvedic massage oils are formulated to strengthen your joints and muscles. They also rejuvenate the skin cells by nourishing them with essential minerals and vitamins. Essential oils are blended to make powerful massage oils.
These are some of the products that you can incorporate into your ayurvedic wholesale business. Choose the products you are confident about and formulate them precisely to make them effective and powerful of your ayurvedic product business plan!
Future Scope of Ayurvedic Product Market
India has a long history of ayurvedic supplements and medicines. Ayurvedic and herbal ingredients have been used in skincare, hair care, massage, aromatherapy, and other purposes for ages. Though ayurvedic products have been available in the market for many decades, there was no awareness about these products in the public domain. Due to the advent of the internet and social media, people started noticing these products.
They researched the types of ayurvedic products and found places to get them at affordable rates. This resulted in an increased demand for ayurvedic ingredients and products. Gradually, brands started noticing the customers' changing preferences and started manufacturing the products under their brand name. The future of the ayurvedic product business is bright because these products are effective and do not cause any side effects.
Key Growth Drivers of Ayurvedic Product Business
Some of the key growth drivers of the Ayurvedic Product Business are listed below:
1. Product Awareness
The increased awareness about the benefits and uses of ayurvedic products is one of the major contributors to the growth of ayurvedic product marketing companies.
2. Increase In Income
The country's increase in per capita income has allowed people to spend more on health, lifestyle, and well-being. The demand for ayurvedic products has also increased due to this reason.
3. Hectic Lifestyle
People's busy and hectic lifestyle creates many issues for their skin, hair, and overall health. People are turning towards natural and ayurvedic products to counter these issues without side effects.
4. Differentiating Factor
Ayurvedic products are marketed differently as compared to synthetic products. It helps brands to gain more attention from the public, which eventually helps their business grow.
5. Biodiversity
The availability of a wide range of plant species, including spices, herbs, and other natural resources, allows brands to explore the uses and benefits of different ingredients. The easy availability of natural resources allows companies to obtain them at reasonable rates.
How To Start A Successful Ayurvedic Products Marketing Company?
The following steps will help you set up an ayurvedic products company:
Select Company Name – The first step would be to choose a company name that resonates with your offerings and products.
Create A Product List – Your next step would be to create a list of products that can help you increase online and offline sales. You must research customer expectations and current market trends while choosing the products.
Rent or Lease Land – The piece of land required to set up the manufacturing plant and offices needs to be purchased. If you do not have enough funds, you may rent or lease land.
GST Registration –  Goods & Services Tax registration should be done to fortify the legality of your ayurvedic product business. After completing this registration, you must pay the taxes yearly through the GST portal.
Trademark Registration – Register your company name and brand names to avoid any hassles in the future.
Company Registration – You also need to register your company as a public, private limited, LLP, or single proprietorship.
Third Party Manufacturing – If you lack the resources or expertise to manufacture the products independently, you can outsource them to a third-party manufacturing company. Choose a private-label company renowned for manufacturing ayurvedic products at competitive rates.
The Role of Third-Party Ayurvedic Product Manufacturers
A third-party ayurvedic product manufacturer can play a key role in your ayurvedic product business as it will handle your manufacturing requirements. You can collaborate with them to gain various benefits, as explained below.
Key Roles Played By Third-Party Ayurvedic Product Manufacturers:
1. Product Development
A third-party private label manufacturer has vast experience in product development. They have pre-tested formulas that have generated positive results in the market. As a result, collaborating with them will prevent the early hassles of your ayurvedic product business.
2. Manufacturing
Manufacturing products is quite a time-consuming and costly affair. The private label manufacturers will care for the entire manufacturing from formulating products to packaging. It will not only save your time but will also save your production cost. The saved time and money can be used to reinforce your ayurvedic product marketing plans.
3. Product Scalability
It is easy to scale up the production with the support of a third-party manufacturer. You can increase the manufacturing of the products that are doing well in the market. You may also customise the product line or add more products to increase your revenue.
4. Cost-Effective
Assigning the production work to a private label third-party manufacturer is cost-effective as you don't have to spend additional money to set up huge manufacturing facilities. There is no need to recruit multiple workers to care for the manufacturing work. It will ultimately reduce your employment cost and save more money for your business of ayurvedic products.
5. Meeting Regulatory Compliances
Before manufacturing a product, you must obtain regulatory compliance from different governments and regulatory bodies. Outsourcing the manufacturing to a private label company will negate this need as they already have all the regulatory licences to comply with the government rules and guidelines.
The above points highlight the importance of starting an ayurvedic herbal company with the help and support of a third-party manufacturer. Choose a reputed and trusted company that can handle your production requirements well.
Bo International – Your Trusted Private Label Manufacturer
Bo International is a certified and standard private-label cosmetic company. They also engage in the manufacturing of herbal and ayurvedic products on a large scale. Using the latest innovations and technologies in manufacturing plants helps them maintain the products' quality and safety standards. Each product is duly tested to verify whether it meets the specifications requested by the clients. Their collaboration with the best brands in the world provides them with insights regarding current market trends and customer insights. They use these insights while formulating ayurvedic products. Contact their sales team today to learn more about their services and offerings!