Lipsticks are always in great demand as women like to flaunt different shades and textures on their lips. Yet, starting a lipstick business requires extensive market research and preparation. The manufacturing of lipsticks needs to be perfect to impress the end users.
Brands can start a lipstick business in collaboration with a private label manufacturer. A private label manufacturer can manufacture the lipsticks for them. In this article, we will look at the different aspects of initiating the lipstick selling business!
Benefits of Starting a Lipstick Business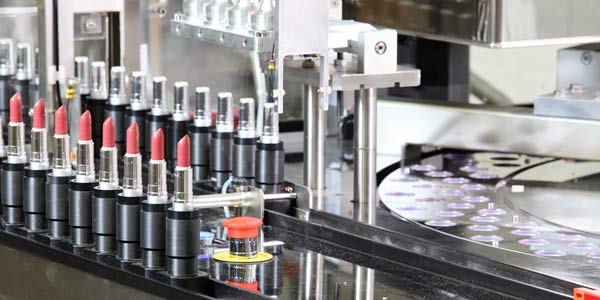 Lipstick selling businesses can provide numerous benefits to the brands. Here are some key benefits of starting a small lipstick business:
1. High Demand
Lipsticks are consumed on a large scale as women use them daily. They purchase different types of Lipsticks for different occasions. Also, they like to match the lipstick with their attire. Therefore, they usually spend extravagantly when it comes to buying lipsticks.
2. Low Startup Costs
The lipstick small business can be started at a relatively lesser cost. The cost of the supplies, machinery, and inventory required for the manufacturing and packaging of lipsticks is relatively lower than other cosmetics and makeup products. This enables the brands to get higher profit margins.
3. High Profit Margins
The low production costs help small business lipstick to earn a decent profit margin. They can increase their profit margins by outsourcing their manufacturing to a private label manufacturer. They can also extend their product line and earn higher profit margins.
These are the reasons why brands prefer adding lipsticks to their product line. Some brands also focus solely on manufacturing lipsticks and other lip care products like lip balms, lip glosses, etc. To start a lipstick business, you must closely track current market trends.
How To Start Lipstick Business?
Starting a lipstick business involves many things. The brands should be aware of the market and customer expectations. Here are a few ways to start a small lipstick business:
1. Conduct Market Research
The market trends related to the lipstick business evolve with time. The trend of using matte finish lipsticks, ultra-glossy lipsticks, nude lipsticks, etc., keeps changing. Therefore, you must conduct thorough market research to be updated with the latest industry trends and insights.
2. Develop A Brand & Product Line
Developing a brand that sells lipsticks may not be easy for startups. It is because they have to focus on a target audience interested in purchasing lipsticks. As a lipstick brand owner, you can use social media to promote your brand and include various products and lipstick types in your product line.
3. Register Your Business
Registering your business and obtaining the required certifications for lipstick manufacturing is also an essential step. It includes registering your business as a private limited, public limited, single proprietorship, or LLP. You will also require a shop act licence if you plan to start a retail store selling lipsticks.
4. Create A Sales & Marketing Strategy
An extensive sales and marketing strategy will help your small lipstick business grow quickly. You should be aware of the social media channels you use to promote your new products. Also, you may need to advertise your products through Facebook, Instagram, and other social media platforms to increase your reach and sales.
5. Launch Your Business
Once you have understood all the above aspects, decide when you would like to launch your lipstick business. You can organise an event with a celebrity or model to start lipstick business. You can also launch your website and mobile app to sell lipsticks on the launch date.
These were a few essential steps for starting a lipstick business. The lipstick making business also involves a few other factors that we will discuss in the below sections.
How Private Labelling Help In Lipstick Business?
Private labelling in lipstick business involves manufacturing and other aspects of your business to a private label lipstick manufacturer. Consider the following aspects while choosing a private label manufacturer for your small lipstick business:
1. Customisation
Customising the products is a major requirement for every lipstick business. Choose a private label company that can handle diverse requirements and customise the products per your business needs. The company should also be flexible enough to incorporate your custom packaging needs.
2. Branding
Private label companies can also help you with your branding strategies. Their marketing expertise can be used to promote the products on different online platforms. It will ultimately improve your brand recognition and help your business grow!
3. Quality Control
Select a private label manufacturer who follows strict quality control measures. Each ingredient that goes into lipstick manufacturing should be thoroughly tested for safety and quality standards. Similarly, every finished product should be tested for quality, effectiveness, and safety.
4. Cost-Effectiveness
The costs of starting a lipstick business include purchasing land, manufacturing equipment, inventory, ingredients, and other lipstick-making supplies. A significant portion of their budget would be spent on setting up infrastructure and manufacturing plants. It can be avoided by outsourcing the manufacturing to a private label manufacturer who offers lipsticks at wholesale rates.
5. Time-Saving
Private label companies have expertise in bulk manufacturing lipsticks. You can get the lipsticks manufactured from them, and the saved time can be invested in strengthening your sales and marketing strategy.
We hope you understand the importance and benefits of private labelling in the small lipstick business. Choose a trusted and reputed manufacturer who can accept your custom orders and produce quality lipsticks for your end users.
Standing Out – Tips for Making Your Lipstick Business Unique
To make your lipstick business profitable, bringing some uniqueness to the products is essential. The uniqueness should also reflect in your branding and marketing plans. Here are a few tips that can help you to make your lipstick selling business unique and stand out from your competitors:
1. Identify Your USP
USP, i.e. Unique Selling Point, is crucial for every business. In the lipstick selling business, you should identify the features of your lipsticks that your customers relate to. It can be the branding, special packaging, smooth finishing, or the quality of your lipsticks. Once you identify the USP, you can focus on improving your sales.
2. Develop A Strong Brand Identity
Your brand identity must be etched in the minds of your end users. For that, you can publish posts on social media regularly. It may include publishing brand stories, useful content, and other posts your audience can relate to. It will improve your connection with your customers and reflect your lipstick selling business growth.
3. Offer Customisable Products
The lipsticks you manufacture should be easy-to-use and customisable. Your end users should be able to customise their uses per their needs. For example, the customers should be able to blend different shades of lipstick to create a unique colour.
4. Focus On Sustainability
As a brand owner, you must offer sustainable products, i.e. products that do not pollute or harm the environment. It will not only reflect on your brand value but will also attract individuals who are concerned about the environment.
5. Partner With Influencers
Partnering with influencers can be an important part of your marketing strategy. The influencers can highlight your products subtly through their content. They also promote your products through their vlogs, blogs, and other content.
6. Offer Limited Edition Products
As a brand offering premium-quality lipsticks, you must introduce some limited edition products regularly. It will generate curiosity among the users, who will be tempted to try these products. Ultimately, it will improve your brand value and recognition as well.
7. Provide Exceptional Customer Service
Customer service should be prompt and dedicated to retaining customers. At the same time, you must train your customer to promote your offerings while resolving their queries and complaints.
We hope you understand how to make your lipstick selling business stand out from the competitors. Apart from these tips, you should also focus on what your top competitors are doing when marketing and promoting their products.
Partnering With Us For Successful Lipstick Business
Bo International is a standard and certified private label manufacturer in India. They manufacture lipsticks and other lip care products in bulk and provide them at wholesale rates to their B2B clients. You can avail of their customised packaging services as well. They also accept customised formulas and ingredients per your lipstick business's requirements. Using the latest technologies in manufacturing allows them to produce effective products without compromising on safety and quality standards. Collaboration with top logistics companies helps them to deliver the products on time. The use of organic ingredients makes their products suitable for regular use. Contact their sales team today to know more about their private label services and offerings!