Skincare products are meant to resolve certain issues in your skin. Yet, skin care products should be formulated and manufactured carefully. Any flaws or low-quality ingredients can damage the skin or cause discomfort. Therefore, brands implement rigorous testing methods to test the quality of manufactured products.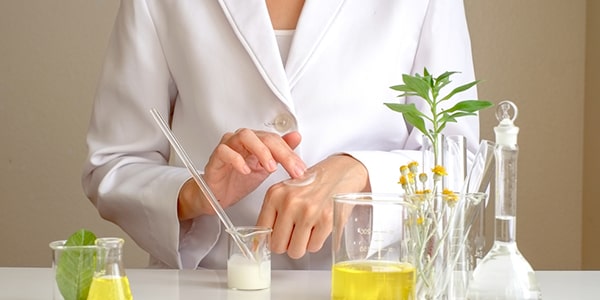 Testing the quality, stability, and overall effectiveness of the Skincare Products helps them to deliver top-notch quality products to the end users. It makes their products relevant and popular in the market which helps their business grow to newer heights.
Benefits of Skin Care Product Testing
Skin care product testing procedure may consist of several rounds of testing. Implementing rigorous testing procedures helps brands to improve the overall effectiveness and quality of their products. Some of the key benefits of skin care product testing are listed below:
1. Ensures Safety:
Testing skin care products helps brands to develop products that suit all skin types. The safety of the ingredients should also be tested as certain ingredients may not suit certain skin types. Patch test for skin care products is recommended because it helps end users determine whether the products are suitable for their skin.
Brands recommend the patch test skincare even after several rounds of testing because each individual may be exposed to various kinds of skin ailments and issues.
2. Evaluates the Effectiveness:
The effectiveness of skin care products must be evaluated before delivering them to customers. Different types of skin care products serve different purposes. Some of them are formulated to remove acne whereas some products slow down the signs of ageing.
Some skin care products are developed to lighten skin or repair damaged skin. As a result, it becomes essential for brands to test whether skin care products meet the requirements of the users.
3. Quality Control:
Offering quality products is a must for every product. Substandard quality of products not only degrades brand image but also results in lower popularity of the products. Brands will have to spend higher on the marketing of low-quality products. Instead, they can employ thorough skincare test methods to ensure the top-notch quality of the products.
It will make their products more beneficial for the end users. They will recommend their products to their friends and relatives and the word-of-mouth publicity will improve the brand image.
4. Compliance with Regulations:
Different countries and regions enforce different types of regulations for skin care manufacturing brands. These regulations are to be met to ensure that the products are safe for regular use. The products need to be environment-friendly and pet-friendly to do well in the market. Brands strive to get the required certifications for their products.
Organic ingredients also need to be tested to verify whether they are of the required quality or not. Skincare test methods help brands to meet the regulations stipulated by government bodies.
5. Drives Innovation:
If a certain product is not found to be of the desired quality, brands can improvise the formulas. They may add new ingredients or modify the formula by re-evaluating the concentration of the ingredients. All these efforts also drive innovation and help the brands to formulate unique and effective solutions. It not only makes the brands unique but also makes the products relevant to the targeted audience.
We hope that you have understood the importance of testing skin care products. The brands can constitute a research and development team and a separate quality testing method to ensure that their products are of premium quality. They should also ensure that they package the products properly to prevent them from destabilising due to humidity, sunlight, and other environmental factors.
Why Is a Patch Test For Skin Care Products Important?
Patch tests are conducted to ensure whether the skin care products suit certain types of skin or not. Brands may conduct the patch test skincare procedures in their own facilities. Yet, they also ask the end users to take a patch test on their elbow or knee to confirm whether the products suit their skin or not.
They just have to apply a small portion of the product on their elbow or knee. If they experience any irritation or discomfort after applying the products, it means that the products do not compliment their skin. Customers who have experienced skin allergies or ailments in the past are also advised to consult a dermatologist or a skin expert before using any skin care product.
Conclusion
We hope that you have understood the necessity of testing Skincare Products. If you own a skincare brand, you will have to integrate testing facilities in your manufacturing plants. Or else, you can also outsource the manufacturing part of your business to a trusted third-party manufacturer.
BO International is a leading Private Label Skincare Manufacturer. They employ rigorous skincare testing methods to ensure that each product is of top quality and safety. They also accept custom formulas and ingredients as per the requirements of their clients. Contact their sales team today to know more about their services and offerings.