Ayurvedic cosmetic products are in great demand nowadays because of the increased awareness of customers regarding herbal and natural ingredients. Yet, it is not easy for startups and cosmetic brands to handle the manufacturing of cosmetic ayurvedic products. They can seek help from private label third-party ayurvedic cosmetic manufacturer who are experienced in manufacturing ayurvedic makeup and cosmetic products.
A private label ayurvedic cosmetic product manufacturer is a company that engages in third-party manufacturing of ayurvedic cosmetic and makeup products. It means that brands can outsource the manufacturing of cosmetic Ayurvedic Products to these companies. Private label companies also handle the packaging and marketing of the products if required.
Benefits of Private Labelling In Cosmetic Ayurvedic Products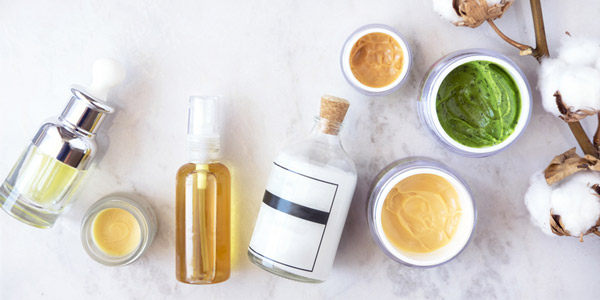 There are several benefits of collaborating with private label ayurvedic cosmetics manufacturing company. Some of the key benefits are highlighted below:
1. Customisation
Brands can customise their products per their requirements, as private label ayurvedic cosmetics manufacturer companies accept custom formulas. Their ability to customise the formulas by exploring the uses and benefits of various ingredients helps brands launch unique cosmetic ayurvedic products. Brands can also ask the manufacturers to customise their products' scent profile, composition, or physical appearance.
2. Cost-Effective
Third-party private label ayurvedic cosmetic manufacturer produce cosmetic ayurvedic products in bulk. As a result, they offer them at discounted and wholesale rates. The costs involved in buying land, machinery and inventory required to manufacture the products can also be minimised by outsourcing the production to a third-party private label ayurvedic cosmetics manufacturing company.
3. Quality Control
Private label ayurveda natural makeup manufacturers have preset testing facilities for testing each and every product before packaging. They also have a dedicated research and development team to test the quality of the ingredients before they are introduced in the manufacturing plants. As a result, brands can get high-quality, effective, and standard offerings from these ayurvedic cosmetics products manufacturers.
4. Increasing Demand For Ayurvedic Products
Ayurvedic products are in great demand nowadays. People prefer cosmetic ayurvedic makeup products because they are safe and provide excellent results when treating skin issues and flaws. Therefore, brands that rely on herbal and organic ingredients receive more online and offline orders. To cash in on these opportunities, brands can supply and meet the requirements of the end users by manufacturing cosmetic ayurvedic products in bulk.
These are a few amazing benefits of working with a private label ayurvedic cosmetic manufacturer. Collaborating with a trusted, experienced, and reputed third-party ayurvedic cosmetics manufacturing company is wise to avoid any manufacturing flaws and hassles.
BO International – Your Trusted Private Label Manufacturer
BO International is a certified and standard manufacturer of cosmetic ayurvedic products. They indulge in bulk manufacturing of ayurvedic makeup and cosmetic products. Also, their extensive manufacturing capabilities allow them to accept custom formulas and ingredients as requested by their clients. The customised packaging solutions they offer allow the brands to modify their packaging per their branding and marketing needs. Each cosmetic ayurvedic product is duly tested for safety and quality before dispatching them. The partnership with top logistics companies enables them to deliver ayurvedic cosmetic products without any delay.
Advantages of Choosing BO International For Your Product Line
Here are some top advantages of choosing BO International to manufacture an cosmetic ayurvedic product line:
1. Quality Product Formulations
BO International has access to numerous tried and tested formulas that are good to go. Therefore, brands do not have to waste time in formulating the cosmetic ayurvedic products. Also, it prevents the wastage of resources that could occur if the final products are not as effective as desired. With BO International, brands can use quality product formulas for their product line.
2. Flexibility In Customization
BO International can handle all the customisations with respect to aesthetics, composition, colour, fragrance, and features of the cosmetic ayurvedic products. Their ability to offer flexibility at every level provides a competitive edge to their customers. It is so because they can fine-tune the products and launch unique and effective products in the market that resonate with customer expectations and requirements.
3. Competitive Pricing
Competitive pricing is one of the hallmarks of BO International's offerings. As it produces cosmetic ayurvedic products in bulk, it offers heavy discounts to its clients. You can also order samples before going for full-scale manufacturing. The competitive prices and discounts BO International offers allow you to gain higher profit margins by selling ayurvedic cosmetic products.
4. Excellent Customer Service
You can contact their customer support service to seek resolutions to your doubts and queries. Their 24/7 customer support service can be accessed via email, telephone, and live chat. Due to the presence of knowledgeable customer support executives, all your issues can be resolved in real-time.
5. Industry Expertise
BO International has been engaging in manufacturing ayurvedic cosmetic products for several years. Over the years, it has collaborated with the best brands in the industry. Their collaboration has helped them precisely understand customer insights and the latest market trends. It uses this information while formulating products.
6. Environmentally Friendly
Using sustainable and eco-friendly ayurvedic cosmetics manufacturing practices allows BO International to showcase its dedication towards the environment and people. Using organic and biodegradable ingredients ensures that no harm is caused to the plants, animals, and biodiversity after using products. The brands collaborating with them have the advantage of boasting about environmentally friendly and vegan products.
We hope that you have understood how to select ayurvedic cosmetic product manufacturers. BO International seems to be a highly competitive and reputed private label manufacturer. Contact their sales team today to understand their working methods and products!