Private label manufacturers will take care of all your production needs. You may need their assistance if you want to start a baby care products business. Baby lotions, shampoos, diaper ointment, body wash, moisturisers, baby laundry detergents, etc., are some of the products in great demand when it comes to baby care business.
Apart from these popular offerings, you can also include some more products as per your business and marketing requirements. In this article, we will learn how to start a baby products business in india with the help of a private label manufacturer!
Top 7 Steps For Starting Your Baby Care Products Business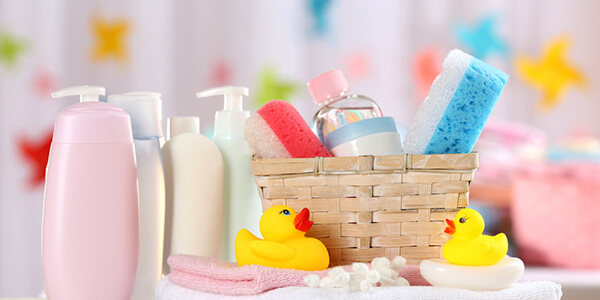 Before starting a brand, you must know some things in advance. These are the top 7 steps that should be part of your baby care business plan:
1. Identify Your Niche
Niche marketing works in every business. When manufacturing baby care products, you can focus on making hypoallergenic and fragrance-free products. At the same time, including only natural fragrances and ingredients in the products will make them more appealing to parents. All these keywords will help you in your marketing efforts as well.
2. Conduct Market Research
If you think there is no need to conduct market research for selling baby care products, you are completely mistaken. Market research will provide insights into the target audience, preferences, and customer needs. The details regarding the competitors and their products will help you decide the price and marketing strategies for your baby care business.
3. Create A Business Plan
Once you have enough data, you should utilise it to create a concrete business plan. The baby care business plan must be a complete document containing the mission statement, business goals, marketing plans, financial projections, etc. A well-documented business plan will also help you impress early investors who must analyse your baby products business plans before investing in it.
4. Find A Reliable Manufacturer
Here is where your association with a private labelling company comes into play. You can collaborate with an experienced Private Label Service provider who can handle all your requirements. The ones who accept custom formulas and ingredients can help you to launch new baby products. Also, consider factors like pricing, lead times, and product quality before signing a contract.
5. Customize Your Products
Customised formulas help you to launch unique baby products in the market. By partnering with a private label that accepts custom orders, you can customise the Baby Care Products without any issues to meet the requirements of the end users.
Private label companies with customised packaging solutions will help you design packaging as per your marketing needs. You will also be able to comply with all the relevant standards and regulations regarding product quality and packaging.
6. Market Your Products
Market your baby care products and brand smartly by using social media channels. You can advertise creatively and include paid promotions to increase your reach. At the same time, you can improve your followers by using social media influencers. Content marketing is a powerful medium to reach and impress a niche audience. You can use it to create a dedicated followership for your pages and social media handles.
7. Launch Your Products
Once you are ready to launch your products, you should track each and every bit of their performance after launching them. Take feedback from the customers to improve your baby care product's features and specifications. Use innovative ways of launching products and try to create a buzz for the products even before they are launched.
We hope you have a fair bit of idea about how to start a baby care business now. You need to make a comprehensive baby care business plan first and then implement the strategies smartly. Read the case studies of reputed baby and mother care products and reflect on ideas from their journey.
Customise Your Product With Our Private Labelling Services
BO International can be your best option for private labelling services. It is because we have a huge 10+ years of experience in manufacturing different types of private label baby care products. We offer customised formulas and even provide customised packaging solutions as per your marketing requirements.
Economical pricing, discounted wholesale rates, a wide range of offerings, dedicated research and development, and partnership with top logistics services are some of the key features of their private label services. Using the latest innovations and technologies in manufacturing helps us reach high standards of quality, design, and product specifications. All these things will give you an edge over your competitors in the market.
Why Choose Us For Private Label Manufacturing
Bo International is the best choice for private label baby care product manufacturing because they accept custom formulas. They use only natural fragrances and ingredients in the product, making them safe for sensitive-skin babies. Moreover, they have a fast distribution channel and deliver the products within the deadline due to their partnerships with top logistics companies.
Advantages Of Choosing Bo International For Your Baby Product Line
There are several advantages to choosing Bo International for your baby care business. Some of the key advantages have been highlighted below:
1. Quality Product Formulations
With Bo International, you will have access to tried and tested formulas. You can also customise the formulas as per your requirements. Their R & D team ensures that each product meets safety and quality standards.
2. Flexibility In Customization
With Bo International, you can customise the composition, appearance, colour, fragrance profile, and features of the private label baby care products as per your target audience. This kind of customisation is hardly available with any other private label service provider in the market.
3. Competitive Pricing
The bulk manufacturing ability of Bo International allows them to offer the private label baby care products at competitive pricing. When you have a higher profit margin, it will automatically boost your baby care business plans to greater heights.
4. Excellent Customer Service
The top-notch customer support services offered by Bo International help to resolve all your queries and doubts regarding private label services and manufacturing. You can discuss your requirements with their sales team and get suggestions for the product line accordingly.
5. Industry Expertise
Bo International is a standard and certified private label company in India. It has vast 10+ years of experience in handling different types of skincare and personal care products. Their expertise will surely help you while starting your baby care business.
6. Environmentally Friendly
When it comes to producing environmentally friendly or eco-friendly private label baby care products, few companies come close to Bo International. It is because the ingredients are sourced from organic farms, and care is taken to avoid any harm to the environment while manufacturing the products.
Now, it would be easy for you to understand how to start a baby care business. If you have any doubts or queries, please don't hesitate to write to us!